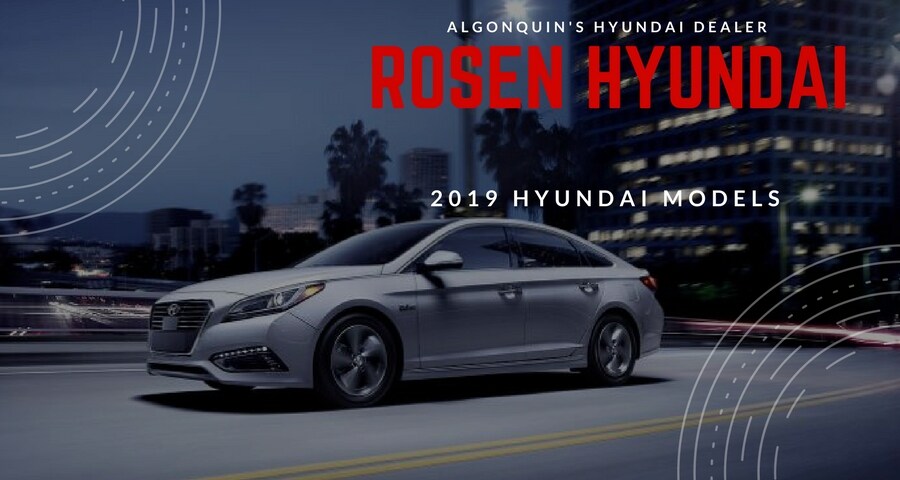 Get the Latest 2019 Hyundai Models at Rosen Hyundai
Rosen Hyundai is a Hyundai Dealership near you that's ready to serve you. We are proud to provide you with great vehicles that can help fit with your life and your needs. We have Hyundai sedans, crossovers/SUVs and even hybrid and electric vehicles. Whatever kind of vehicle you are looking for we have the perfect options for you. We also give you great prices at Rosen Hyundai because we want you to be able to find the perfect vehicle for your life and your budget. Our Finance Center can help you find the financing that fits with your life. You can even get pre-approved for financing on our website. Looking for a Hyundai in the Chicago area? Rosen Hyundai is here to help you upgrade. Check out more information about the 2019 Hyundai models below, so you can upgrade to the best Hyundai vehicles yet starting soon. Don't miss the opportunity to see what upgrades Hyundai has in store for its 2019 models. Learn more below! Rosen Hyundai is located at 771 South Randall Road in Algonquin, IL. Call us at (888) 271-4351 to schedule a test drive or to learn more about how we can help you upgrade.

New 2019 Hyundai Vehicles
The 2019 Hyundai Santa Fe has been reimagined and redesigned for 2019. It has bold new exterior styling as well as a bigger and more spacious interior. This vehicle also offers you the option of a diesel engine. It is one vehicle you won't want to miss out on.

This may just be the vehicle of your dreams. The 2019 Hyundai Elantra GT gives you features like a rearview camera, available leather seats, an 8-inch display, standard 17-inch alloy wheels, LED daytime running lights, Bluetooth connectivity and so much more.

The Hyundai Kona is a brand-new vehicle for 2018. Hyundai decided to expand their crossover lineup with the Kona small SUV. For 2019, you will get the option of an electric Hyundai Kona. Interested in learning more? Reach out to us at Rosen Hyundai.

The Veloster has some great new features for 2019. This vehicle keeps a lot of its unique style, like its three doors, but it also gets some exterior and interior styling upgrades for 2019. The Veloster also gets a step-up in horsepower on its base engine.

The 2019 Sonata has really stepped up its game this year. It has the style you want in a midsize sedan, with the style you need. It has powerful features like a 2.4-liter four-cylinder engine. To learn more, visit our 2019 Hyundai Sonata model page.

The 2019 Hyundai Tucson is better than ever. With new headlights and taillights, and a newly restyled grille, you can't go wrong with this beautiful looking care. Visit the  2019 Hyundai Tucson model page. to learn more.

2019 Hyundai Elantra

The Hyundai Elantra is at its best in the 2019 Hyundai Elantra model. From its improved engine, new technology and features, you can't go wrong with the 2019 Hyundai Elantra. Visit the 2019 Hyundai Elantra page to learn more. 

The 2019 Hyundai Ioniq is the perfect compact car with tons of syle and technology. It provides great fuel economy, an intuitive infotainment system, and many other great features. Visit the 2019 Hyundai Ioniq page to learn more. 






Find the best deals for 2019 Hyundai Models at Your Algonquin Hyundai Dealer
Is there a Hyundai dealership near me that sells the Hyundai Tucson SEL for the best price with amazing deals? There sure is if you find your Hyundai near me at Rosen Hyundai. That's because Rosen Hyundai is the leading Hyundai dealer in all of Illinois. Come visit our showroom located at 771 S Randall Rd, Algonquin, IL 60102 to see the amazing 2018 Hyundai Tucson yourself. Our friendly sales staff are on-hand to tell you all you need to know and to hook you up with the best financing deals around. Book your test drive before you head down by calling us on 888-757-5628.