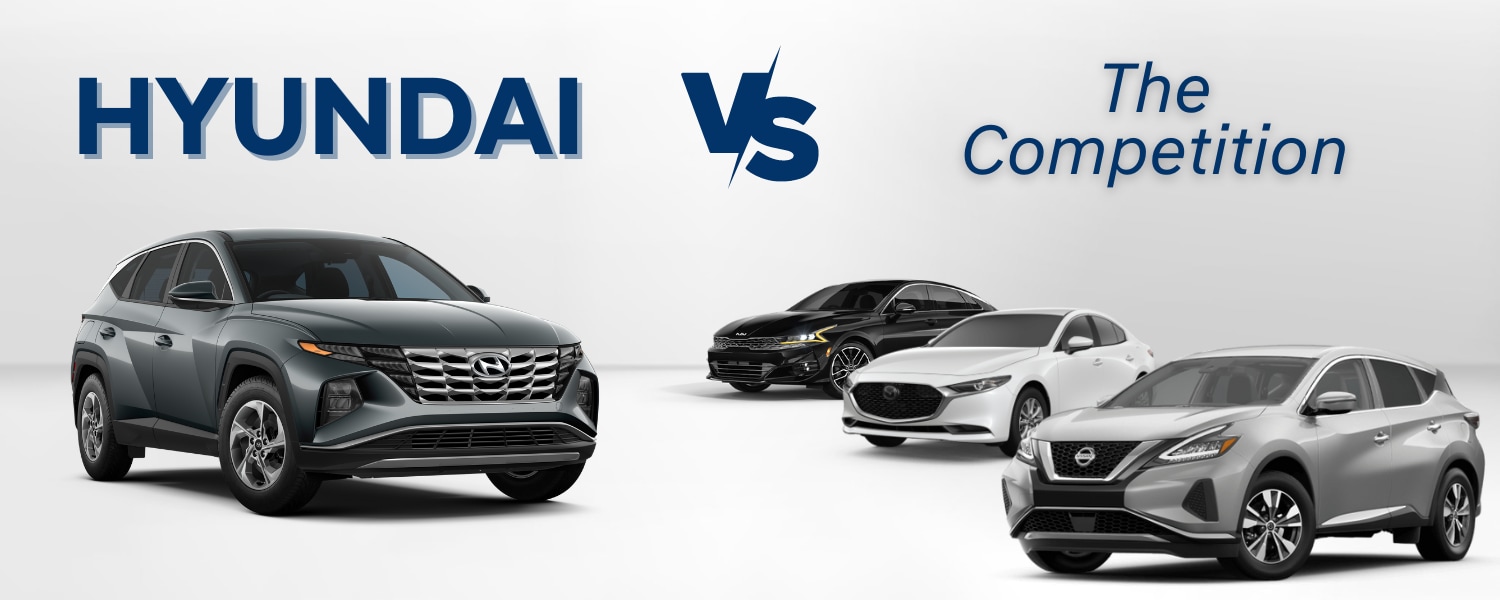 Not Sure Which Car to Buy? Rosen Hyundai's Competitor Comparison Pages Break Down All the Important Facts and Specs!
Wondering if there are Hyundai models for sale near me that beat out their competition in terms of both price and capabilities? What about if there are Hyundai models near me that have advanced technologies that aren't offered by other cars in their class?  Are there even Hyundai models near me that are not only a better value than their competitors in terms of features and price, but also offer years of efficient driving?  How about a new Hyundai near me that's clearly offered with a better warranty than its competition?  The answer to all these questions, simply put, is YES! Rosen Hyundai is your Hyundai dealer in Algonquin, IL that always offers models that have a combination of features that put them in front of cars from other brands. In fact, we have even put together several competitor comparison pages that allows you to explore these advantages for yourself. Have any questions? Call (888) 271-1804 or stop by 771 South Randall Road today!
Hyundai's Competition Does Match Up
Rosen Hyundai's competitor comparison pages make it clear which vehicle brand is right for you. By comparing specific features and technologies, our competitor comparison pages make it easy for you to see which model beats the others. Hyundai is known to offer the most advanced features especially when it comes to safety technologies. In fact, the new Hyundai models often have more advanced safety features at lower trim levels than even the most expensive cars in their respective classes! With Hyundai always putting their consumers top of mind when creating new models, each Hyundai is sure to give its owners exactly what they need and more. See for yourself in our comparison pages below how Hyundai beats its competitors when it comes to features and more!
A Hyundai Competitor Comparison Usually Shows that the Numbers Add Up in Hyundai's Favor
Algonquin consumers who take a minute to research Hyundai's competition will quickly discover that basic, objective stats often favor the new models that are waiting on Rosen Hyundai's lot at 771 South Randall Road. This is because Hyundai models always have high gas mileage for their class. When this is combined with Hyundai reliability, consumers benefit from an overall low cost to own rating. Available with a 10-year, 100,000-mile powertrain limited warranty, each of the new Hyundai models for sale at Rosen Hyundai is defined by high reliability and long service lives.
New Hyundai's Are Always Waiting to Be Test Driven at Rosen Hyundai!
Don't just rely on a Hyundai competitor comparison report to learn about the new Hyundai models at Scott Levy's Rosen Hyundai of Algonquin. Take a trip down to 771 South Randall Road in Algonquin to test drive one today! Choose from over 200 models including Hyundai's newest Hybrid models and more. Our employees are excited to help you find the perfect Hyundai vehicle for you.