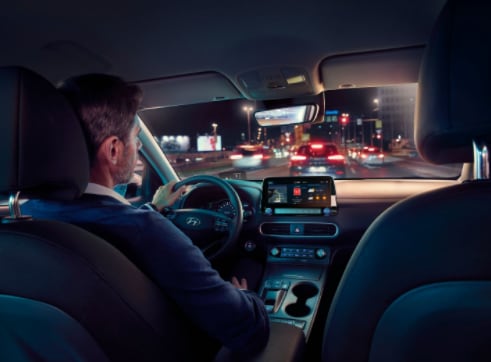 Here at Rosen Hyundai, we're always impressed by the new technology that Hyundai engineers introduce every new year. Driver assist technology is a fairly recent development but already many great improvements have been made to increase driver safety and to make driving easier. Interactive voice recognition is one of the more impressive features. If you are asking yourself, what is interactive voice recognition? Read on.
Interactive Voice Recognition
Interactive voice recognition is a technology that uses the sound of your voice to perform certain functions. It allows you to keep both hands on the steering wheel while you're driving. Some of these commands include playing songs on the audio system or switching Bluetooth devices.
It's easy to use Hyundai voice recognition to increase safety and make driving easier. One part of the system is what is called interactive voice response. This feature allows the driver to access their phone system and make hands-free calling. You'll need to connect your cell phone to the IVR system first. You'll also have to download your contacts to the system. You access this feature from the steering wheel by pressing the voice icon.
Using voice response technology in your Hyundai vehicle enhances your safety by giving you hands-free access to features and functions in your vehicle using your voice. To make a call you say "call" followed by the name of the person you wish to talk to. They'll need to be in your contacts list, of course. You can also say "dial" then say the number. Useful navigational commands include "find," "map," and "go home." When using a map, you can tell the system to zoom in or out, go to a previous point, or turn the system off. Hyundai technology is pretty amazing, isn't it?
More Than Great Deals
We offer more than great deals on new Hyundai vehicles. We have an incredibly knowledgeable sales team that is committed to finding you the best sedan, crossover, or SUV. We also have a talented team of service technicians to keep you and your vehicle on the road for many years to come. Visit our website for more information, to schedule service, or to apply for financing. And of course, use it to view our entire inventory of new and used vehicles!
Looking for a new vehicle with Hyundai interactive voice? Visit us at Rosen Hyundai. We are located at 771 South Randall Road in Algonquin. Or call our sales team at 888-271-4351. Ask us about any brand new or pre-owned Hyundai vehicle!